Frequently Asked Questions
Before Installing
Can I try IntelliWebSearch out before buying the licence?
Before deciding to buy, everyone has the right to a two-month free trial. All you need to do is download and install.
Please take advantage of the full two-month trial period to test the tool out on all the computers you intend to use it on and in all the conditions you expect before purchasing a licence.
I have received a discount coupon. How do I use it?
To take advantage of your discount, all you have to do is: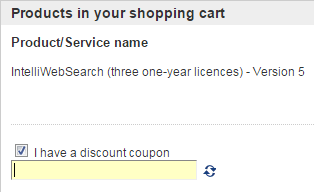 Choose the type of licence you want.
Tick the "I have a discount coupon" box on the shopping cart page.
Type in the case-sensitive coupon code you have received.
Refresh the price.
My favourite language is not among the available interface languages. Is there anything I can do?
IntelliWebSearch version 5 is probably the first program in the world users can localize into their own language as they use it. Just press F7 when one of the windows is open and start localizing. Alternatively you can export/import all the interface messages in XLIFF format and localize them in your favourite localization/translation environment tool. Localizers may also receive complimentary licences in exchange for making their localized interface files available to other users (see details).

My IT department is concerned about installing the tool. Is it safe?
Security Statement
IntelliWebSearch Version 5 is not and does not install malware, keyloggers, tracking software, spyware, crimeware, adware, viruses, worms or trojan horses.
IntelliWebSearch Version 5 connects to the IntelliWebSearch website without asking you first when:
You run the program, to check that your licence has not expired.
You check for updates (either manually or automatically).
You download a new users' starter pack or you download new search settings from the Settings Database.
You download a localized language interface.
When it connects to the Internet, besides the information a normal web browser would transmit, IntelliWebSearch Version 5 transmits an encrypted code number that identifies your computer and your licence activation code.
IntelliWebSearch Version 5 neither collects nor transmits any other information about you at any time.
IntelliWebSearch Version 5 monitors your keyboard activity only in order to detect the hotkeys that activate its functions.
Where can I download IntelliWebSearch for Mac?
You can't I'm afraid.
IntelliWebSearch is a Windows-only tool. Some people run it successfully on Mac with virtualization software, but please test it very carefully before buying a licence. You are not entitled to a refund if it does not work correctly with your virtualization software.
After Installing
After installing for the first time ever, a message appears saying my trial period has expired. What did I do wrong?
Probably nothing!
There have been a few reports of the two-month trial failing to activate upon installation. It is not clear what the cause is, but the most likely candidate is an interruption in the Internet connection during installation.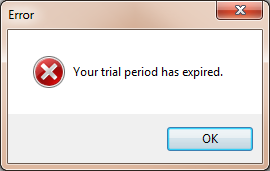 In any case, the solution is simple: send me the email address you wish to use to activate the trial and I'll send you a trial activation code as soon as possible. When you receive your code, follow these instructions.
Can I move the licence from my old PC to my new one?
The quickest way to transfer an activation code (v. 5.0.1.27 or better) is to carry out the following steps on the target PC (the one you want to transfer the licence to):
1. Choose Manage licences from the red i icon menu to open the Register IntelliWebSearch window.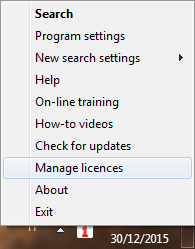 2. Type in the activation code you want to move, or another activation code you have activated using the same email address.
3. Type in the email address you originally used to activate it.
4. Click the Manage licences button.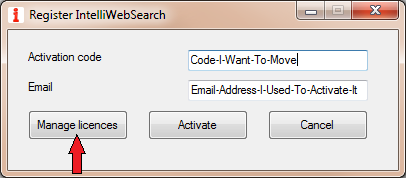 5. Wait for the Manage Licences Page to open in your browser.
6. Click the appropriate X to deactivate the activation code you want to move. Take careful note of this activation code or leave the Manage Licences Page open in your browser.


7. Return to the Register IntelliWebSearch window.
8. Make sure the activation code shown is the one you want to reactivate, and click the Activate button to reactivate the activation code on the new PC.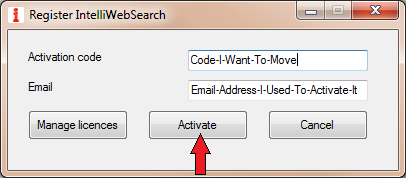 How can I find out when my licence expires?
How can I set IntelliWebSearch up to use a specific browser?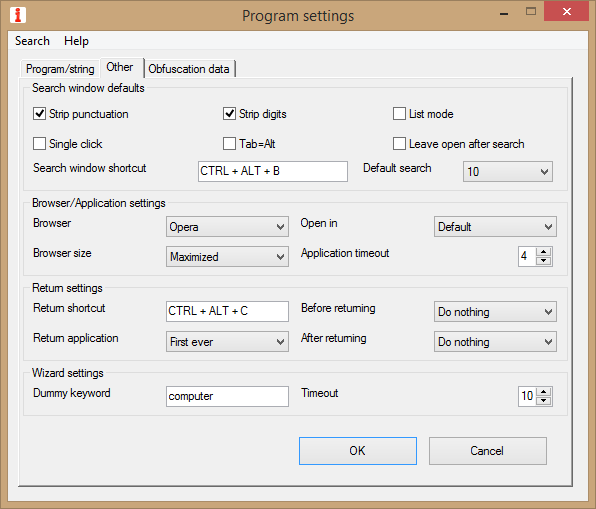 Program Settings Window (Other settings)
Set Browser among the Browser/Application settings on the Other settings tab of the Program Settings Window. You may choose one of the most common browsers by name (Microsoft Edge, MS Internet Explorer, Google Chrome, Firefox or Opera) or choose "…" and select the browser executable. If you choose Default, IntelliWebSearch will use your OS default browser.
Note that, regardless of this setting, websites the Wizard finds can only be accessed via DOM mode will open in MS Internet Explorer.
I chose my main working language pair when I installed the tool, but I would like to install some other languages. Is it possible?
Sure!
If you would like an additional language pack of settings, you can import one from the Settings Database via the Share menu on the Search Window.

I tried setting up my favourite on-line dictionary/encyclopaedia/resource using the Wizard, but it failed. What can I do?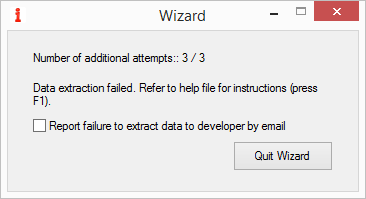 There are some websites that defeat the Wizard. It may be possible to set them up manually, or you may have to use Form Fill Mode.
I'm a conference interpreter and need to leave the Search Window open in the foreground between searches. Can it be done?
When you are in the booth, just press F8* and the window will be there for you whenever you need it. And when you leave the booth, you can switch back to the classic behaviour simply by toggling F8 again.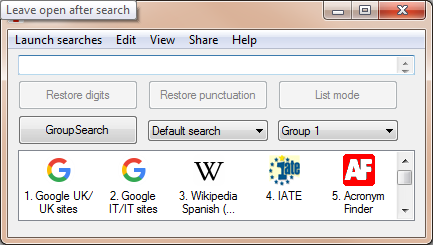 *Press F8 after opening the Search window for the first time.
I've bought the licence. How do I activate the program?
Once you receive your activation codes, right click the red i icon in the notification area and choose Manage licences from the menu that appears: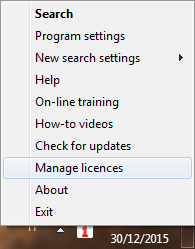 Alternatively you can open the Search Window (Ctrl+Alt+B by default) and choose Manage licences from the Help menu: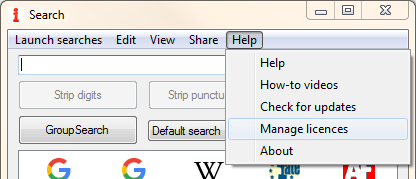 Type in an activation code and your email address, and click Activate: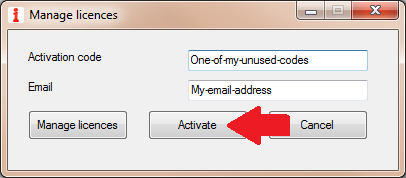 My licence is expiring soon. How can I renew?
The IntelliWebSearch Wizard doesn't use my favourite browser. What can I do?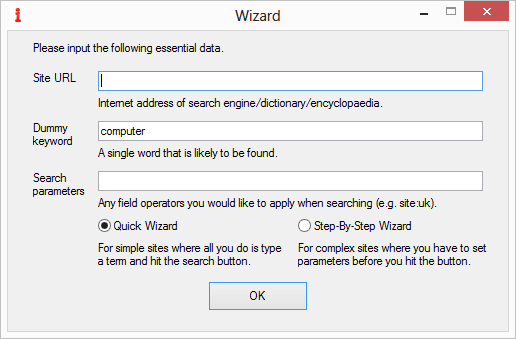 Nothing!
The IntelliWebSearch Wizard always uses MS Internet Explorer, but the settings it produces will work with your favourite browser, with one exception: websites the Wizard finds can only be accessed via DOM mode.
Other Questions
I see that the members of several associations get a discount, but my association is not on the list. Why not?
I would like to teach translators to use IntelliWebSearch during a workshop/course. Can I have licence codes for my students?