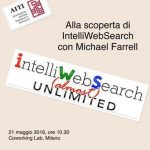 On 21 May 2016, an enthusiastic group of translators, led by IntelliWebSearch's developer Michael Farrell, set out to explore the terminology research tool and discover all of its most interesting features.
The expedition was organized by the Lombardy branch of the Italian Association of Translators and Interpreters (AITI), and took place in the pleasant surroundings of the Coworking Lab in Milan.
Remember that AITI members are eligible for a discount on the list price.